Great Divide Fishing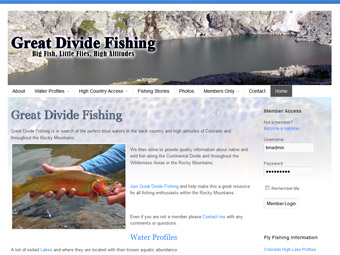 Great Divide Fishing is a website devoted to fly fishing enthusiasts in Colorado looking to fish the Great Divide. With plans to expand north into Wyoming, Montana and Canada, Great Divide Fishing's guru, Brian Johnson, travels to little known lakes, rivers and streams to find the best fly fishing in Colorado! Journey into the deep with Brian as he shares his fly fishing experience with the world.
He will share fly tying tips, secret fishing holes and plenty of water profile and high country access information so you can make an educated decision about your next fishing trip into the Great Divide!
Visit Great Divide Fishing, today!