Papou's Pizza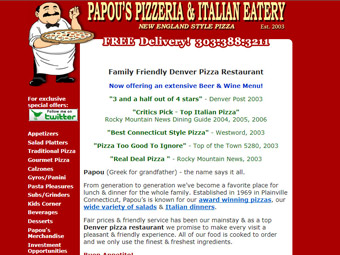 Papou's Pizza has been a client of Dog Eat Dog Designs since we started in 2004. They create New England style pizza masterpieces. The pizzeria is located near Alameda and Leetsdale, in Denver, Colorado.
If you haven't had Papou's pizza, you need to get in there and try it! Among the many options for pizza, they also have salads, appetizers, calzones, gyros and more!
Visit Papou's Pizza, today!